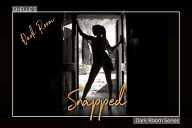 My sweet, If you ever doubt I know exactly what you need, listen to this perfect brainwashing session I have just for you in this week's Dark Room--Snapped, a MUST listen-to session. Now, don't be afraid of the dark. I will always be your guiding light. you know how much I love driving you wild with My arousing control, pulling your puppet strings and stroking your lust for Me. My puppy, you are always so horny and aroused when you feel completely submissive to your Domina. My words are your Absolute Authority.
So, get comfortable for your journey down into a deeper and deeper trance. Let go and enjoy the feel of your mind and body seduced into complete compliance to all My suggestions and triggers. you can say: "Thank You, Domina" in advance as you read these words. ~smile~ Will you beg for Me to trigger you again and again? Something else I love is when you beg Me to take you deeper, beg to trigger your arousal... Beg for My rewards, for My approval, beg that I allow you to stroke, to edge, to take complete control and beg to have Me tell you to c*m for Me. W/we are a perfect fit, My slave. My control is so satisfying, pleasurable to your weak, conditioned and submissive mind. *Snap*
And, remember as you are getting close, that I am at the center of your world, the Object of all your desires. you love Me right there with you at this moment of sheer pleasure. I am your addiction and your pleasure. Everything's better when you do it for your Domina, with My permission and under My orgasm control. I am so proud of you, My pet, how you manage to take care of all your responsibilities and still put Me as your priority, devoting yourself to obey and take care of what I need and desire. you are getting so close to being Perfect for Me. Kisses.
UPDATES
I'm feeling much better and will not be traveling for a few weeks. your gifts to My Challenge To Please are appreciated and helpful to getting Me more used to pampering Myself.
Just to let you know that after this week, I will be raising the price on last week's Manipulative Therapist II. It may not be for everyone, as I warned. But, there are now some reviews, if you need some help making up your mind.
NEXT WEEK : I'm debating on CONDITIONING or BRAINWASHING...Giggles
Here are this week's special deals:
Dark Room - Submissive Destiny --
All that you are is a consequence of My guidance, training and hypnotic conditioning.
Dark Room - Warped Mind --
Twisting your reality until your warped mind slides ever deeper into My dominion...
Dark Room - Oblivion --
Mental oblivion...
Dark Room - Initial Indoctrination --
Enter My Dark Room and let the velvety darkness of the deepest trance descend...