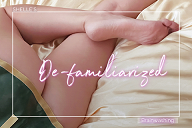 Think about our remarkable relationship, even with miles between us, it's so personal and intimate. When I write and record My sessions I am speaking directly to you, always conditioning you for a deeper, lasting experience that will keep you coming back for more and more of My erotic Mind Fucking. you are always willing and eager to please Me, no matter what I ask. There is no other goal in your life more important than making Me happy. you have dedicated yourself to Me to Love, Honor and Obey.
With this week's De-familiarized I want you to focus on kneeling and on your servitude. I am going to "De-Familiarized" you to control and change your mind and cause you to think whatever I want you to think. Something you very much want, obedience to My control, to do what I say, without thought, without question. This is a technique using familiar objects or situations in an unfamiliar way, prolonging the perceptive process to give you a fresh perspective, the perspective that brings you deeper into My hypnotic bliss. For added excitement, I've made this a "hardcore" MIND ALTERING session. Oh, what you are going to allow Me to do to your brain this time, My little guinea pig.
Be Aware: This session may alter your thinking and perspective of SEXUAL BELIEFS!
For DE-FAMILIARIZATION, I am using your desires and fetishes, something that keeps you thinking about Me, so you can indulge in this pleasure I bring you. So, just get comfortable and let My words stroke you into obeying My post hypnotic suggestions. you always trust Me to know what you need and what you want.... And I have that with a special video that accompanies this session to deepen your experience. Just so you know and prepare yourself, the video has some strobe effects (Do not watch if you are epileptic)...We live in such a visual age, so open all your senses for MY pleasure.
UPDATES
I still have some bills to pay from all My travels. See, you are going to be taking care of Me for the rest of your life. Say thank You, Domina with a CHALLENGE To PLEASE.
NEXT WEEK: Gypsy Queen–a mystery and a sexual EXPERIENCE that you will never forget!
My special deals have changed:
Dark Room - Snapped --
My hypnotic domination and control is helplessly addictive, an unbreakable bondage that leaves you throbbing...
Dark Room - Submissive Destiny --
All that you are is a consequence of My guidance, training and hypnotic conditioning.
Dark Room - Oblivion --
Mental oblivion...
Worship - Kneel at My Feet --
There you are under My feet, under My power, under My control.
Body Worship - My Sexy Feet --
Feel Me seduce you with MY sexy feet...