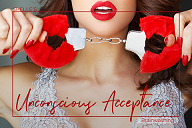 Are you getting there, My pet, with each new session more intense, taking you deeper, making you more addicted the moment you hear My voice? Are you craving to be taken by My words, feeling lost without My control and instructions every day to guide you? With this week's Unconscious Acceptance, you will be automatically programmed to obey and accept My training. No more resistance, doubts or questions, just mindless obedience to everything I tell you to do. Such Pleasure in Obedience to your Domina.
Focus on My voice and absorb all My words with each trance taking you deeper.
I know how much you need Me. So eager for My approval, attention and slave training. This session will program and condition you to sleep a deep and suggestible sleep for My voice, so open and compliant for My control, always horny for more and more of My brainwashing each time you listen. BOUND and HELPLESS.
No one makes you feel the way I do. you will listen 4 times to prepare yourself for a mind blowing orgasm. Then, under My control, with My permission to release your thoughts of serving and pleasing your one true Love and Owner will give you the ultimate sexual gratification, cementing your bond to Me, forever. And the addiction grows every day... to My voice, to your love and devotion, to pleasing and pampering your Domina Shelle...
SEXY PICTURE PACK
COMING SOON!
UPDATES
FinDom slave, you have gotten My slave Mantra instructions. When you commit yourself completely to Me, it feels so good to worship, obey and pay.
This is week 2 of the Hypno Clinical Trials. Listen, again, and then update your initial report with any changes you feel. If you really feel left out. I will allow you to REGISTER and keep to your schedule, 2 weeks behind.
Contracted, I have just posted a new slave story on O/our slaveforshelle (SFS) website. you'll love this one slave's sexual adventure.
Thank you for your THOUGHT FOR TODAY responses. I am saving them for an upcoming recording that is going to be soooo sexy.
NEXT WEEK
Finally, the next weeks, I HOPE to have everything ready for your Beginning Path Assignment. I will be very excited to hear from you, My newbie!
Also next week, I will be reintroducing Volunteer Savings, a very timely assignment for these times.
And then a trip back to My Fantasy House. The next session is so HOT!
This week's special deals:
White Noise II - The Addiction --
Awakening My Sleeper Agent for DEEPER erotic brainwashing...
Domina Shopping - Sissy --
Put on your sexiest panties and follow Me into the depths of your mind...
Domina Shopping --
Yes, My shopping DRONE. I know you dream often of serving Me...
White Noise --
Become My Sleeper Agent...