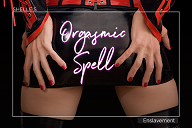 My student, I'm so glad you joined My Psychology 101 class. As the new student in the class, I thought W/we should spend some quality time together - alone in the classroom - to review what I've covered to date in past lessons. Tell Me, did you ever have a Teacher-crush? With this week's Orgasmic Spell I will be using confusion to manipulate your mind. During the session My intoxicating scent will make your brain even foggier. Since so much is at stake, I thought it would be even more delicious for Me to explain it here. And knowing what I'm doing to you will make you fall even weaker and deeper for Me.
I'm an expert/a PROFESSOR of your mind. So, don't worry, you can trust Me. The conscious and the unconscious, the conscious unconscious and the subconscious each play a role in the workings of your submissive mind, each having unique power and influence. Hidden in the depths of the unconscious, unknown to the conscious, lies your powerless subconscious. The subconscious is what drives the conscious and unconscious and there's where I reside having taken complete control.
My darling, I saw you looking up My skirt during class. I know that you crave everything about Me. And I am going to use your own desires to fuck your mind. I will confuse you...your conscious mind will sleep deeper sleep while I play with your subconscious mind. you do know that I am always conditioning your mind. I will enslave every thought you have so you are only ever thinking about your Mistress Owner. I can feel your heart racing and your slave c*ck is begging for Me to take it. Stroke My slave c*ck, 624. It's time to complete My orgasm spell and take over your shadow self... by making you c*m for Me.
I am always brainwashing you. Do you remember the law of hypnosis? Repetition is the law of hypnosis. It's like taking candy from a baby. This Teacher's special is a session that you will want to listen to over and over.
ASSIGNMENT
After listening to this week's session, I have this Assignment for you. Each week I bring you sessions you'll enjoy to tighten My hold on you, bringing you closer and deeper under My hypnotic spell. Consider this a status report. Hand write Me at least a four line Mantra expressing yourself to Me. Take a picture of it and email it to Me. And you may recite this Mantra of devotion as often as needed every day!
UPDATES
I also have a specialty session, Sleepy Time (Be AWARE: This is an ADULT BABY session).
And I know your orgasm will feel so much more exciting when you share the pleasure with your Domina by sending a Stroke Tribute!
Oh and if you are LUCKY you may get a receipt in your mailbox...One that you will reimburse Me for. I know this excites you!
I'm putting together a sexy photo pack for your private time alone with Me, available soon.
I've been so exhausted lately. Is some LUCKY slave going to buy Me DINNER so I don't have to cook?... Brix pizza, YUMMY!
NEXT WEEK...Well, that's not decided. Haha!!! Imagine that! How do you feel about a MEAN DOMINA session? Oh, and I have a VERY SEXY assignment coming, you will love this one.
Here are this week's special deals:
Gypsy Queen --
She turns curious submissives into devoted slaves, dehumanizing them with an obsession for sexual submission...
EnRaptured --
Surrender to your submissive feelings, as I take you deeper into mesmerized ecstasy...
Mind Fog --
The Fog descends as I immerse you deep in submissive bliss, where My suggestions are deeply etched into your subconscious mind.