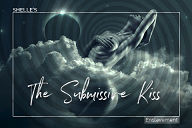 My pet, PREPARE yourself for The Submissive Kiss and for your reward. Maybe it was the extra long shifts this week that I felt extra wicked and indulgent. Usually, you can ALWAYS spoil and pamper Me with Massages to make Me feel good. But right now, I want to be pleasured by your..... Well, My love slave, I won't get graphic here, you'll just have to listen and "picture" O/our XXX rendezvous. I am your dreams and the pleasure in your sexual surrender.
You will be lost in My hypnotic INDUCTION into this beautiful, beloved Princess in Her castle, deep in your dreams. Naturally, you are Her loyal and obedient subject, desperate and longing to serve in every way I desire. I will allow you, My subject, to serve Me in a very special way, the way I want to be served. There are several important lessons to learn along the way, My slave lover....How much you need and want to be useful to Me... your true pleasure is pleasing Me when you serve My needs and desires... you will experience your obedience to My seduction and My explicit JOI instructions and then craving My orgasm control.
After being kept hard and on edge, you will contact Me and ask permission to .... I'm sure you'll find a way to persuade Me to give you just what you need, My slave. Whatever I decide, it won't matter because you'll want to prove that perfect obedience to the Princess of your fantasies is your greatest pleasure.
FARM ASSIGNMENT
On Sunday I drive to Tennessee for a Christmas visit with family. While I'm away to keep Me at the center of our world, I'm leaving you with this One Day Farm Assignment. Signup and receive your Assignment instructions and five tasks including a picture for one of your tasks. Choose any day that gives you the time you need. Feel free to repeat the day as often as you need. At the end you will be emailing Me.
MONTH 9 WELLNESS CHALLENGE
Here is Month 9 Wellness Challenge. Staying Covid safe is an important part of being able to develop and maintain a healthy lifestyle in the future. Remember you will be serving Me for a long, long time. ~Giggles~ W/we are going to spend some time this month working on your psychological and emotional well being. Getting through this together makes U/us stronger.
UPDATES
Such a favorite time of year for your Santa Shelle. Plan ahead with Gift of Love or something from My Wish List. you know how much you love to make Me happy.
NEXT WEEK I'm going to take you to another special place, only this time even deeper… alone with your Domina.
My special deals:
Power Of Brainwashing --
Powerful BRAINWASHING that will make U/us both happy...giggles
BIMBO--Sedation and Seduction --
you do NOT have to be a SISSY to LOVE this file...Stroke and ACCEPT MY CONTROL.
A Week With Shelle--Trigger Files --
"A Week With Shelle" - Seven Trigger files plus Induction.