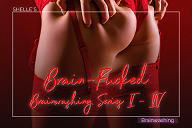 My mesmerized subject, I told you I was going to keep you hard and horny all month by focusing on Me and My BODY. So, get a good grip. This week I am doing something a lil different, a package of four BRAINWASHING sessions in BRAIN FUCKED I, II, III, IV. you know Me so well by now as an expert and VERY POWERFUL Hypno-Domme. I use My expertise and powers of hypnosis, conditioning and persuasion to always get what I want. And I want you to want Me real Bad, like never before, My helpless love toy.
I won't describe too much so you can experience it as it happens. I'm going to play with you and get you very excited with My sexy voice, and with My addictive words you'll be so eager to obey. Say, "Thank You, Domina" now. The things I do for you. All of this is to give you the ultimate pleasure of a deeper enslavement and compelling servitude that only I can provide. So, just listen as I seduce you with My words and body into surrendering your mind, body and sexual pleasure to obey ALL My instructions. It's so easy to manipulate and BRAINWASH you when I say, unzip your pants. For good practice say it again. "Thank You, Domina." you are so welcome. So, GO NOW and OBEY and DOWNLOAD and get LOST in My sexy BRAIN FUCKING series!
Only after you listen, I am making it easier for you and giving you a choice. And then I'll even send a picture of how you pampered Me so you can unzip, again. ~giggles~ Pedicure. Nails. Everything's better when you do it to please Me.
ASSIGNMENT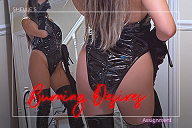 I have a very HOT assignment, Burning Desires, just for you, My sweet...I'm going to DRAIN you...I'm going to MILK you dry. Giggles! But, before I do that, I'm going to MIND fuck you...tease you and play with you like a toy.
I have a $10 fee just so I know who will be doing the Assignment. This assignment will prepare you for a wicked LocTOBER.
UPDATES
I'll be headed back to Tenn soon, GREAT NEWS! My sister is actually taking steps on her own with little assistance. She is a fighter! I admire her for all the hard work she has put in. I'll keep you updated. Thank you for your LOVE....and support. So, I'll allow you to care for Me with My CHALLENGE to please.
Prepare for a month of c*ck and b*lls TRAINING with lots of practice being HORNY as a reward. Don't worry, if you are not in Lockdown, there will be LOTS of c*ck play just for you...Oh, and a few NAUGHTY Halloween treats too.
NEXT WEEK
Next week there will be the LocTober sign-up. I will be keeping close tabs for this year's LOCKDOWN, so watch for the link.
Next week is also My contracted weekend. Maybe there will be a surprise or two just for you.
My special deals, also includes sessions from the assignment:
De-familiarized --
I will mind-fuck you in a naughty way, in ways that you will never have considered Me capable of...
Blind Trust --
you will listen because it excites you when you don't know how I'm going to mind fuck you...
Thought Puppet --
Slowly molding and reshaping your thoughts on your journey to being My perfected slave...
Dripping Orgasmic Pleasure --
It feels as though your mind has slipped down right between your legs...
Burning Anticipation --
Teasing your mind and body as I slip a Post-hypnotic TRIGGER deep inside your subconscious mind.
Compulsive Conditioning --
My hypnotic programming is very REAL and it will progressively change you.