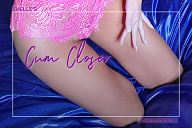 Let's get right down to it! It's time, My baby, it is time for Me to drain you dry, to drain your mind (and your sex) until all that remains is an indoctrinated submissive servant obsessed, and devoted, to pleasing its Domina. With Cum Closer, there will be no thinking, there will be no resistance, there will only be compliance and sexual submission as I intimately tease and toy with My mesmerized pet, compelling you to Listen, blindly Accept, and mindlessly Obey all that your Owner desires. This session is AMAZING! Perfect for your RELEASE! Save it, or listen now. I allow you to choose.
Speaking of DRAINING, My puppy, you have reached the promised land. Cum live in blissful servitude, enslaved by My Domination and Control. I will be emailing My locked down chastity slaves with LocTober's RELEASE instructions for your CLIMACTIC completion...
Yes, you are almost at the finish line. you are welcome for the experience. ~giggles~ you will obey My instructions and release in the fashion that I have chosen for you. I will bring you all the way to one of the most AMAZING orgasms you have ever had.
Is this your last day in Chastity for LocTober, or will you BEG to stay LOCKED down until the 31st? Listen to LOCTOBER Week IV, today, and watch for an instructional email from your Domina. Have you imagined your orgasm? Are you on your knees? Maybe TIED to My brainwashing chair? Think about it! Sexy, all the ways I could choose to have you cum.
HALLOWEEN
This is also Trick or Treat time which means it's Halloween. As you know, I grew up with Halloween as a FUN time of the year. Dressing up and getting spooked, that was fun. Now it's My turn, with a few scary and dangerous sessions from my HYPNOTIC dark cellar for you. Do NOT miss My twist and turns in "The Beckoning", "Vampiress", "Kiss Of A Vampire", "Princess Vampire"," Halloween Princess-A Hypnotic Nightmare", "Hypnotic Seductress-Succubus", "Catwoman-The Addiction", "Phantom Seduction", "Trapped- The Dark Queen", "Cat-Burgular", "Slave Trans-formation-Werewolf", "Subgated Zombie", "Demon Inside" and "Lust In The Darkness". you will find each and EVERY session SEDUCTIVE and DARING in a most alluring way...super SEXY to lose all control and maybe even get BITTEN or sucked DRY. Be WARNED once bitten...Well, you know the story! You may find a couple of My sexed up spooky sessions in SPECIAL DEALS!
Oh, have you listened to Lady H's session "Victim Of The Succubus"?
UPDATES
JJ is feeling well. I'm still waiting on Pathelogy for results, but things are so much better than were first told they would be. JJ is SMILING, eating LOTS of treats and sleeping a lot too. Just what he needs right now.
Lady Helena..Did you remember Lady H's Birthday? If not, you may send her to DINNER, I'll be her guest. Giggles!
NEXT WEEK
Still a Mystery!
My special deals. Check them out...especially THE Beckoning! Included:
BrainDark --
I am a MASTER manipulator of My subject's brain.
The Beckoning --
I don't need to subvert your will to take absolute control, you willingly cum to Me...
Zombie Trance-formation --
Trance-forming you to a mindless, conditioned Zombie...
Halloween Princess - A Hypnotic Nightmare --
Intrigued by your own desires for danger...
A Deeper Servitude --
I will manipulate you into a deeper servitude...