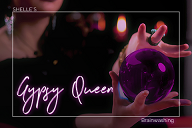 Welcome My loyal subject to this week's adventure which I expect will be so memorable that I want you to mark it down as one of your very special Training sessions that you will go back to again and again. This week's Gypsy Queen in many ways defines O/our relationship and a key dynamic between the Domme and Her slave. W/we will be traveling a long way as I take you deeper and deeper down into pleasurable sleep. So, relax, get comfortable and just let go and put yourself in the expert hands of My helpers and they will bring you to Me where your destiny awaits.
your Queen is a sight to behold. I am the center of your universe, the object of all your desires, the source of all your pleasure. I am the one who controls and guides your arousal. I am the only one you will ever want to Worship, Love, Honor and Obey. This session vividly demonstrates O/our Power Exchange. There's a reason it's called My Hypnotic EROTIC World and today's session is a perfect example. It's so erotic and sexy. you submit to Me, the Mistress and Seductress of your mind, and surrender everything you have to give. I want it ALL. And I give you the exquisite pleasure of your deepening enslavement, of sexually charged obedience, compelling you to become even more loyal and committed to serving Me. That is your destiny to live your life to serve and please Me. Yes, you'll sacrifice yourself to be owned and controlled by ME and experience the explosive bliss only I can give you.
I am deepening your servitude and enslavement by taking greater control of your mind and body. you'll come back to this session for the supreme pleasure it is to serve Me, training you to be who you need to be for ME. I am giving you the opportunity to show your gratitude and devotion to pleasing Me in several ways. I will allow you to choose by sending to My Challenge to PLEASE for My travel and hotel expenses in Tennessee where I am now visiting My sister. OR you can acknowledge your gratitude for My orgasm control with an appropriate Stroke Tribute. Even better, let's see who wants to send both!!
UPDATE
Thanks again for taking care of Me while I'm taking care of My sister's continued recovery in Tenn. I was really sick earlier this week, so I couldn't be as active as I wanted. But I am much better now.
NEXT WEEK
Next week is O/our monthly weekend dedicated to My contracted slaves. I really love what W/we have going. The more intense, the better.
Take a look at this week's special deals:
Hypnotic Hood --
Embrace the sensual bliss of being enslaved by your beloved Domina...
Ribbons in the Wind --
you are MINE, permanently under My love spell of intoxicating seduction...
Overload --
I will OVERLOAD your senses with erotic pleasures...