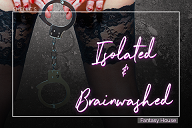 My baby, this week I will bring you home, back to the place I began when I was a young and a new Hypno-domme. Now I am well experienced with expert skills. Things have changed and improved. Welcome to My new House Of Domination, Fantasy House rebuilt into a dungeon, a mind fucking cage with no doors out. Are you brave enough for this week's Isolated and Brainwashed, a delicious mind play? Are you willing to give Me your mind for this long journey into MY DUNGEON, My voice INVADING your mind from all around to make you My perfect slave?
With each new conditioning session you have become addicted and obsessed with Me. I told you I'm an expert Hypno-Domme. you are completely devoted to Me. I know what you need before you do. your pliable mind is Mine to manipulate to help you serve Me anyway that pleases Me. And it pleases Me to have every moment of your life being lived in obedience, dedicated to serving and pleasing Me. Being My perfect slave is your highest calling with your obedience and loyalty your primary focus.
And to make it more exciting I am teaching you the exquisite pleasure of My orgasm control when I am at the center of all your sexual fantasies. The stronger your craving for My sexual control, the more powerful and meaningful your orgasm. And when you understand your orgasm is an act of obedience to your Domina, your craving to goon for Me and masturbate to the edge again and again will bind you forever to Me. This is an addictive state of mind that only I can satisfy.
Follow My instructions exactly and I will unlock you with My hypnotic chastity key and grant you permission to release and c*m for Me. And as an act of obedience and sign of devotion to My orgasm control, you are learning your most satisfying arousal is the pleasure of pleasing and obeying Domina by sending your Masturbation Tribute to be completely MINE.
UPDATES
I just love August, don't you? you can start planning something special for your Domina. ~giggles~
If you like this session, there are so many more that will thrill and excite your little (Brain). Check out Hot Wax, Bondage, and Coercive Bondage. So, browse My sessions, read the reviews and always look at My Special Deals for sessions you missed.
NEXT WEEK
Contracted weekend is coming up, leading up to the most important date of the year, My Birthday, August 5th.
My special deals sessions this week:
Embrace of the Succubus --
Forever lost in rapturous pleasure for the Succubus...
The Submissive Kiss --
Prepare to be schooled in perfecting the SUBMISSIVE KISS for your Domina...
Zero Control --
I will install a trigger that becomes more and more powerful over time...Leaving you weak and vulnerable.