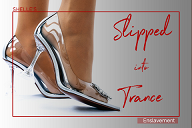 Oh, My pet, there are so many ways you think of Me everyday. I am your first thought when you wake up and the last thought as you go into dreamland. Admit it, you love your Domina addiction. Let's play a game and up the ante. I always win when I play with you, My little love slave. But this week I will take you all the way to untold ecstasy with Slipped into Trance. it's a win-win for both of U/us. I have the most naughty, wicked pleasurable fetish for your imagination to cement your addiction to Me.
I wonder if you will become completely lost in your Domina as you become more addicted to Me, to My mesmerizing voice guiding you, My words commanding you and the images I implant in your mind that I have completely taken over. you will have the overwhelming desire to Love, Honor, and Obey Princess Shelle everyday. your feelings are compelling you to spend more time with Me and more time conditioning yourself to obey Me in every way. you love to obey. It's so simple, you just do what I say. Go ahead, and follow all My instructions in today's sexy, arousing training session.
Not to give too much away....no, I better not. Just allow your curiosity to lead you. Listen NOW!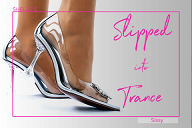 And My good gurls have your OWN special session with Slipped into Trance - Sissy.
UPDATES
Finslaves, look for a special personal surprise and invitation from your Fin-DOMME in your email. you will be getting the attention you need from your Mistress Owner. If you are not on My finslave mailing list, then listen to Trained and Drained and email Me to receive My exclusive invitation and instructions.
With THANKSGIVING next week, let's prepare to give Thanks for having each other in O/our Erotic Hypnotic World that has become so real, reassuring and pleasurable. you know I am very grateful for you and how much you mean to Me. I will always hold you close to My heart, My baby.
CHALLENGE TO PLEASE
your Challenge To PLEASE contribution for this year's retirement fund is appreciated.
NEXT WEEK
Next week is another training and conditioning session I know you will enjoy.
My special deals have changed:
Ice Queen - Destroyer of Minds --
you are destined for a lifetime of enslavement, serving Me forever.
Sweet Manipulation --
The TRUTH of My control and My hypnotic brainwashing...
Mind Trap --
Get Lost in My DISTRACTION, then caught in a wicked little mind trap.
Sweet Deception --
My enchanting sweet and innocent voice will catch you a little off guard...