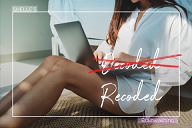 What's the one thing a true submissive mind really lives for? Instructions to obey. And, with this week's Recoded, I am removing all obstacles, any hesitations, to fulfilling the role you are committed to play in all O/our interactions. So, let's keep this good thing going. you love being owned by Me and I love taking care of My property. So, My hypno-slave, this programming session will allow you to carry out all the desired tasks I have for you and leave you craving for more.
Having a more suggestible mind makes you more focused on your need to submit to suggestions. My suggestions are My instructions which you take as My commands. As your Domina, I am here to fulfill your needs and desires, which are the needs and desires I have implanted in your submissive, suggestive mind. This builds up your addiction and craving for more. And so, when you crave something, let's say it's your very favorite thing to eat, and you finally get to see it, smell it, taste and devour the texture, the flavors and then get to enjoy even the after-taste, nothing is more satisfying and pleasurable, well, except craving your Domina. ~giggles~
So, when I create a need, a craving, I give you the opportunities to satisfy your need by serving and pleasing Me. Truly, nothing is more satisfying and pleasurable. Being My horny sex slave brings you so much pleasure. Being owned by Me gives you a deep sense of fulfillment and satisfaction because you are pleasing Me and making Me happy. Being under My guidance, serving and pleasing Me gives meaning and purpose to your life when you have your Domina to Love, Honor and Obey. So, I want you to listen to this session at least 5 times over the next 5 days. you are connected to something bigger than yourself and I am taking you on this long journey of the good life you will live as Mine to fulfill the destiny you crave.
UPDATES
you do take care of Me and show your devotion everytime you send to My Challenge to PLEASE so I can pamper Myself and think of you making it all possible.
Happy Father's Day to all the dads.
NEXT WEEK
Next week W/we will continue with this month's theme of your beautiful submissive mind, all MINE for the taking when in taking you Deeper Into Trance.
Take a look at this week's special deals:
Hot Wax - House of Domination --
True erotic submission, a combination of pleasure & pain to subdue and subjugate your mind.
Erotic Reflections --
Ready for more delicious programming by your ever desirable Domina.
Helplessly Obedient - Sissy --
Put on your favorite sexy panties...
Helplessly Obedient --
Relinquish all control to Me.
THE EXPERIMENT - Mind Calibration --
The 6 Week MIND CALIBRATION EXPERIMENT for My Lab Rat.