This Christmas week will be great fun and excitement. I have lots of presents for you. You get to be My guinea pig AND My puppy. First, I have another Experiment with a new Brain Chip Implant Update-Guinea Pig 2. This is the most arousing OBSESSION. By now I expect you have your Brain Chip INSTALLED to make this Upgrade more effective.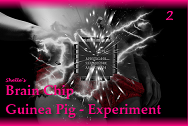 I am probing your mind and implanting more enticing triggers, My useful Guinea Pig, to test how powerful My control has become with this Upgrade. I won't reveal how you will react to this new Obsession, but I can promise, you will have TRIGGERS all around you this Christmas. This is one Upgrade you will NOT even try to resist but will CRAVE those arousing feelings of being under My control to always be there. That's part of My experiment.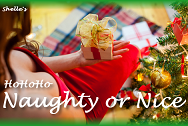 My second Christmas present is HoHoHo-Naughty or Nice. you will love My sexy tease this year, come lay on My tummy and tell Santa Shelle your Xmas wishes... Come sit at My feet, little puppy. Sexy Santa Shelle has a treat for you. I'm feeling sexier and and very playful this Christmas.That's it BEG. Good boy. I see you like My Santa outfit. Have you been a good little boy, being nice and helpful to Santa Shelle for Christmas? Then, listen and cum fetch your treat. If you like My Christmas gift to you, then you may treat Santa Shelle to LUNCH with My sisters. And for naughty boys giving Me your lunch money is your chance for redemption. ~giggles~
CHRISTMAS
After working this weekend, on Sunday, I travel to the lovely town of Helen, Georgia where My North Carolina and Tennessee family will meet to enjoy Christmas together.
I'm so looking forward to these days sharing Our company and memories, presents and good feelings. A touch of sadness remembering those We lost.... Even if you don't celebrate it, I hope your heart and home is warm with love in the Christmas spirit. As always I wish you much HAPPINESS with your family and friends. Listen to My voice and keep Me extra close to you through the holidays.
Thank you for your gift giving and generosity. It's not too late to please Me and make Me happy. And YOU can feel good about spoiling Me for Christmas. ~giggles~ If you are still undecided for gift ideas, consider My priority this year with:  Challenge To PLEASE.  Or if you prefer something from My WISH LIST. Reflect on this past year, how W/we have gotten closer. I appreciate your support and all the love and devotion you have given Me. you have made it a very rewarding year by committing to do your very best for your Domina and Princess.
BEFORE Xmas DAY--- another CHRISTMAS GIFT, THE CHRISTMAS ORNAMENT, This more edgy and very wicked Christmas Story is a FREE GIFT......... I want you to enjoy it and to look forward, My pet, to a spicier and more stimulating 2018, together. Your Sweet Soft Domme is feeling more Wicked, Powerful and in Control. Expect deeper submission and stricter obedience. Can you take it?
UPDATES AND NEXT WEEK
I am so please to see you working hard with My Exercise Monitoring. you are going to keep at it and succeed. The Get Fit Assignment is always available for your New Year's resolution to exercise and lose weight. But wait until after the holidays to contact Me if you are interested In My monitoring and encouragement. Then I can make arrangements with you.
NEXT WEEK, W/we are going to Bust the NEW YEAR with a BANG!! I'm feeling very...... suggestible. ~Giggles~ I'm going to give you a session you have been BEGGING Me for. What I am going to do to you, My puppy, just wait and see.....
a SPECIAL littte GIFT ---
http://www.mediafire.com/file/15l1ln37e61bvsk/DSR_-_Xmas_2017_-_Sample_4_-_Ani_-_Crystal.mp4
Check these hott special deals ...