Prepare for a very steamy, SEXY hardcore TEASE....will definitely be the ultimate c*ck tease....One that you will love.  So much swelling, might just need an icepack for this one.
So, take off your pants, lay down and stay with Me for a while...Let Me lead you to your destiny, a trip into the deepest parts of your mind.  Look into My crystal and be seduced with this week's sultry SESSION --WAVES OF SUBMISSION.  you are My subject, I am your Hypnotist.  I have your mind, you have no control. (This session is a re-mastered version of "The Crystal", from My beginning hypno sessions...actually one of My best.)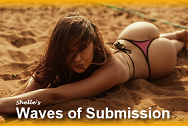 Peace BLISS and PLEASURES you have not experienced, never quite like this.  All things binding you to Me, bringing you closer to where you need to be.....the deep unconscious state of hypnotic bliss...Pleasures brought on ONLY by pure surrender to your ENCHANTING HYPNOTIC PRINCESS.  Don't think that it's all a game, until you wake up one day....no way back to what was....ONLY the here and now......give in to Me, the reward of true happiness.
Prepared for your newest IMPLANT?  The more dedicated you become to serving your Princess, the better your quality of life will be.  Trust Me.  I know what is best for you.
MY SUMMER VACATION
OUR SPECIAL BEACH ADVENTURE to please your Domina.  I leave at the end of this weekend's shift, so you still have time to spend some of My vacation with Me.  I can't wait to bronze My body in the sun.  I give you this opportunity to send Me to the beach with these Challenges To PLEASE.
Spend your time with Me at the beach.  Listen to this week's session.  It puts you right there next to Me on My blanket.  With that generous $200 contribution of love and appreciation, I will call you LIVE from the beach, so you can hear Me rub tanning oil all over My body.  I'll thank you, personally.  Apply My oil, nice and slowly....Just Me, getting you excited.  I want you stroking as you climax, if I allow it.
Thanks to all who have contributed to My happiness.  If you sent $200 be sure to email Me with MOAN in the subject with your details and I'll arrange a good time to talk and work out all the details with you.
BIRTHDAY NEXT WEEK
Next week is one of the most important days in your life, MY Birthday. ~giggles~  you know how excited I can be......If you appreciate all I do for you, this is the perfect time to send a GIFT OF LOVE to the Special Woman in your life....or, send Me an Amazon Gift Card.
For this important occasion, next week, I will have two NEW Brain Chip Implants for you.  One is MY BIRTHDAY gift for you, haha.  I want you happy on My birthday!  ONLY for those with the Brain Chip.
Watch for an arousing story on SFS site about the wicked Unethical Therapist and Her efforts to enslave unsuspecting patients, who come to Her for therapy, into a life of servitude to Her greedy demands... Hot summer reading.  Think of it as a bedtime story that I am reading to you after I tuck you into bed. (Plus some upgrades coming soon)
If you are not already committed to Me, now is the time for you to find fulfillment with MY SLAVE CONTRACT and experience the pleasure of serving.  you are My slave and I am your Owner.  Let Me help you take care of your Domina Shelle addiction.
LADY HELENA
My slave Girl, Lady Helena has released her best file session.  Listen to it and make sure you give Her your feedback with a review of Orgasmic Obedience.